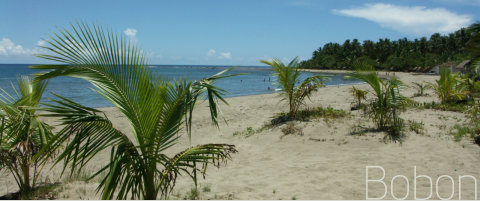 Bobon-USA Association:
California, USA |
Email:
bobonusa@bobon.us

Copyright © 1999 Bobon-USA Association
About Bobon
As we have said in our home page, this site is all
about Bobon - its colorful history, its customs and
traditions, and its people. We have tried to gather
as much information as we possibly can from
different sources. As we expected, it was not an
easy task considering that there are really no
existing depositories or sources of historical data.
We have gathered our data mainly from
interviews and old archived family records.
Mrs.Rosario E. Paredes, Man Sayong to most
Bobonanons, has supplied most of these records
coupled with her own recollection of religious and
traditional practices that Bobonanons observed in
the past and still observe at present and the social
events that have made Bobon what it is today.
When we were listing all the items that we wanted
to include in this page, we could not help but
recall all those fond memories particularly when
we were still children running around the streets
of Bobon.
Viva Señor Santo Niño!
The Webmaster

History
A Brief History of Bobon
Geography
Bobon is one of the oldest municipalities in the
province of Northern Samar. It is a coastal town
located on the northern portion of the province
bounded by the Pacific ocean in the north, the
former Municipality of Oquendo (now a district of
Calbayog City) in the south, Catarman (the capital
town) in the east and San Jose (formerly
Carangian) in the west.
Politics
Capitanes of Bobon
Early executive officers of Bobon were called
Capitanes
. They were:
•
Capitan Crisostomo Batiles
•
Capitan Antonio Tobes
•
Capitan Gregorio Balite
•
Capitan Ruperto Balite
•
Capitan Buenaventura Tagros
•
Capitan Feliciano Paredes
•
Capitan Eleodoro Paredes
•
Capitan Pedro Balite
•
Capitan Eleuterio Duran
Socio-Economic
Products
Bobon is basically an agricultural town and its
major products are copra, rice, corn, abaca,
vegetables and root crops. Its main source of
livelihood is farming, tuba gathering, fishing,
livestock raising and some cottage industry such
as piñato making, etc.
Education
Early education of Bobonanons was given by the
Spanish Friars assigned to Bobon.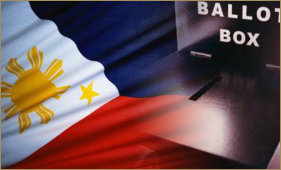 Religious
Bobonanons are a highly religious people. The
tradition of the fiesta like most of its religious
customs and traditions is an ancient one handed
down from the many Spanish religious practices.
Most fiestas are celebrated among patron saints
and/or the major events in the life of Jesus Christ
and His Mother.
Bobon's Patron Saint is Señor Santo Niño.
Bobonanons venerate the white and the black
Señor Santo Niño. But it is widely believed that
the black Santo Niño called the Agta is the more
mysterious and miraculous one.
Customs - Past and Present
Tubá
Tubá is one of Bobon's well-known produce. It is
everyone's wine, liquor, or a combination of both.
It is made from the coconut tree by tuba
gatherers known locally as manangete. Bobon's
tuba is known to most Northern Samarenos as
one of the best especially after it becomes a
bahalina.
The Bandillo
Many years ago, before the advent of the
electronic public address systems
Associations of Bobonanons
Around the World
Bobon-USA Association
(Founded August 10, 1991 in California, USA)
•
President: Butch E. Paredes
•
Vice-President: Ber G. Carpina
•
Secretary/Treasurer: Bobbie M. Cornillez
•
Auditor: Nelly Hill
Bobon-Metro Manila Residents Association
Past Presidents
•
1960-1961 = Benjamin de Asas
•
August 1961 - April 1962 = Florencio Gorgonia